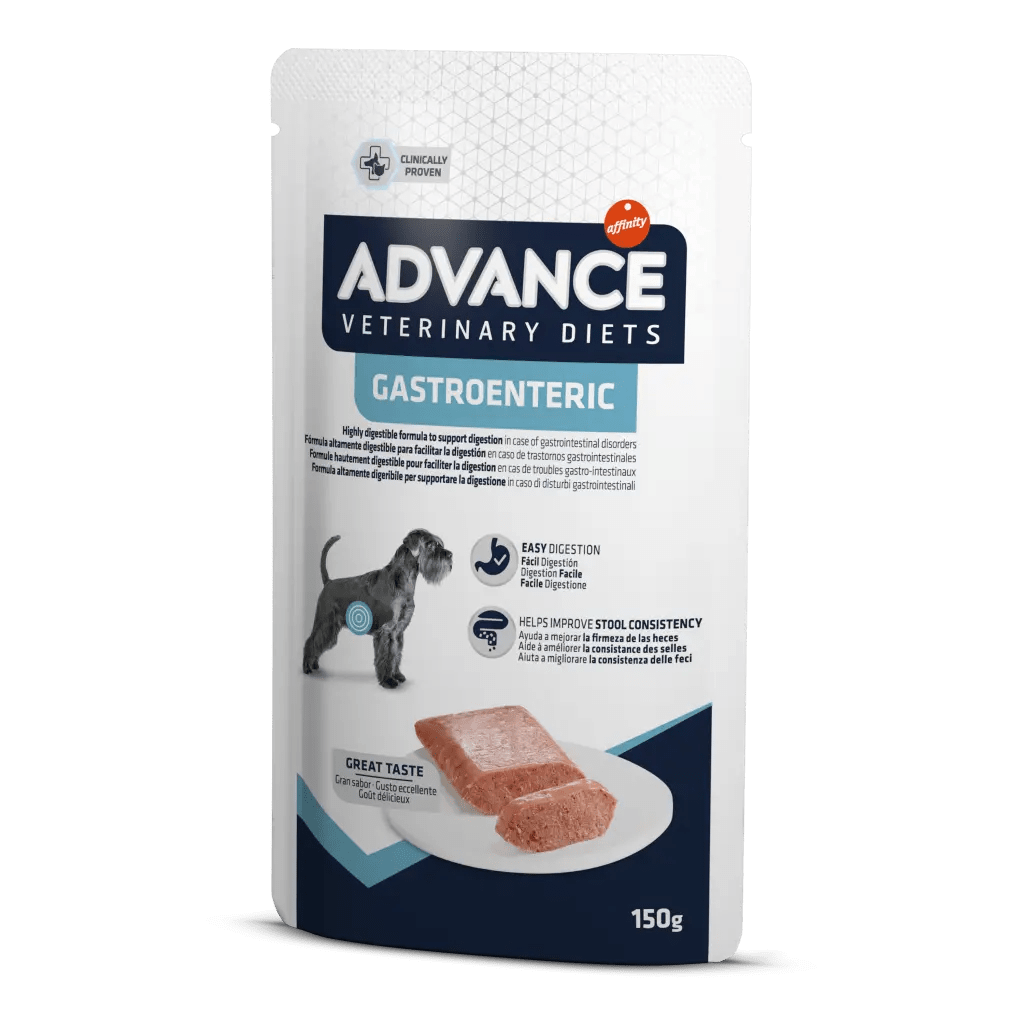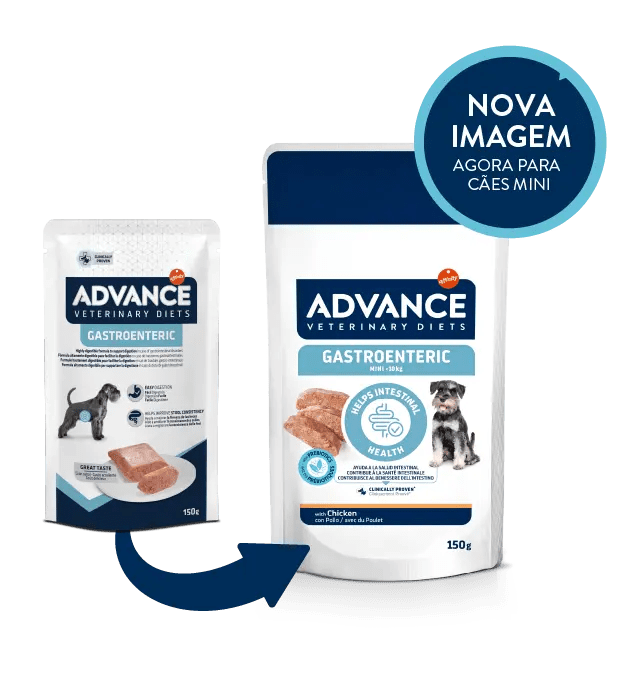 VETERINARY DIETS CANINE GASTROENTERIC
Veterinary Diet for gastrointestinal problems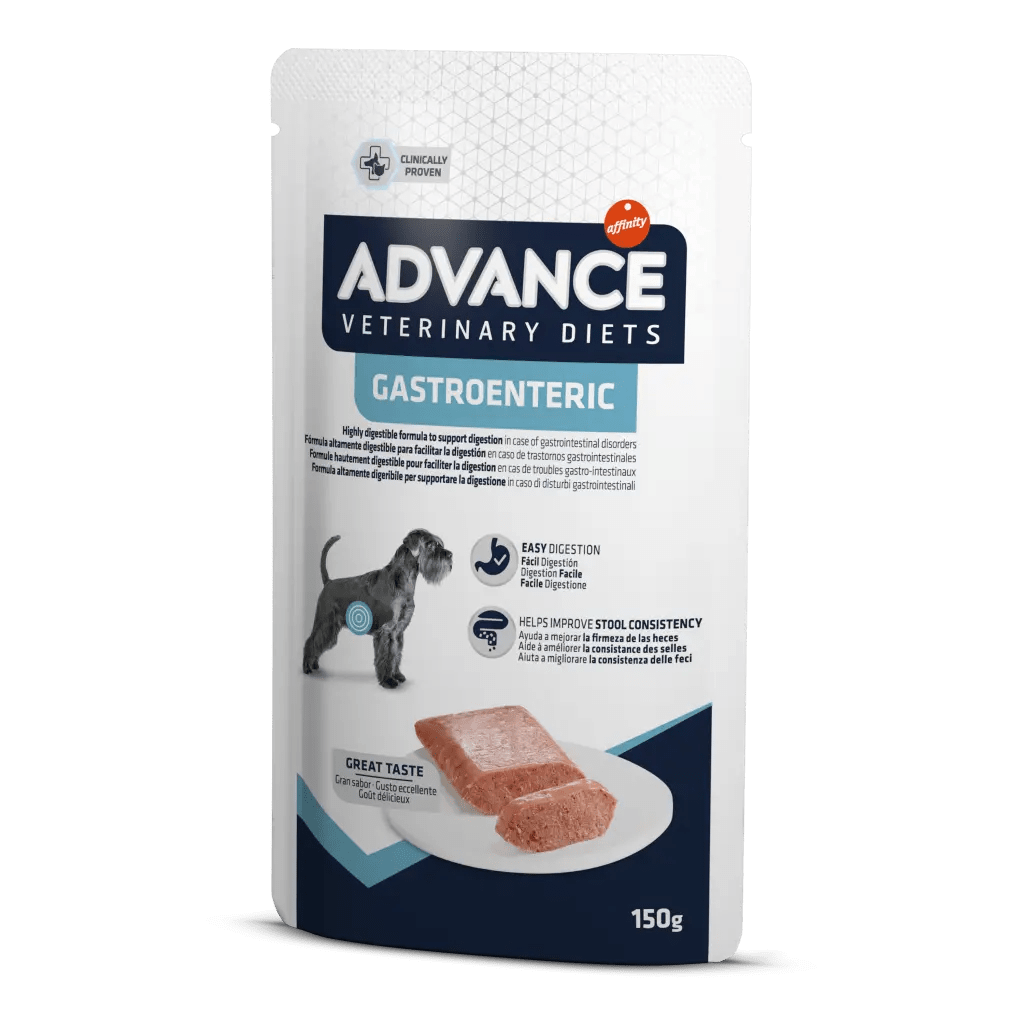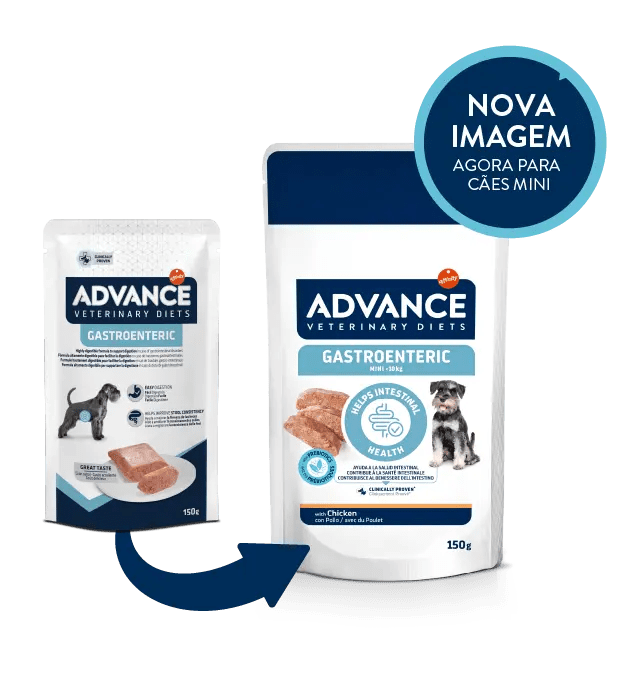 ADVANCE VETERINARY DIETS GASTROENTERIC is a complete and balanced dietetic product for puppies over 14 weeks old and adult dogs, prepared with easily digestible ingredients, a low fibre content, and increased sodium and potassium content to help relieve certain gastrointestinal problems and aid with cases of exocrine pancreatic insufficiency.
Its easy-to-digest formula facilitates the absorption of essential nutrients.
VETERINARY DIETS CANINE GASTROENTERIC

is a clinically tested food with proven results
Benefits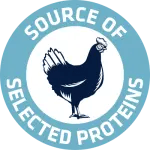 With chicken protein to help digestion.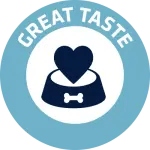 Flavourful food to improve appetite.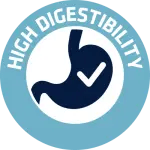 The easily digestible rice contributes to generating a smaller volume of faeces.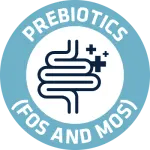 Promote the development of halthy intestinal flora.
Recommended daily allowances
ONLY WET FOOD
| | | |
| --- | --- | --- |
| ADULT WEIGHT | ADULT | PUPPY > 14 WEEKS |
| | Pouches/day | Pouches/day |
| 2 - 5 kg | 1,5 - 2,5 | 2 - 4 |
| 6 - 10 kg | 3 - 4,5 | 4 - 6 |
| 11 - 15 kg | 4,5 - 6 | 5 - 8 |
| 16 - 20 kg | 6 - 7 | 8 - 10 |
| 21 - 30 kg | 7,5 - 9,5 | 10 - 13 |
| 31 - 40 kg | 10 - 12 | 13 - 16 |
| 41 - 50 kg | 12,5 - 14,5 | 16 - 19 |
MIX FEEDING (Wet&Dry Food Advance Veterinary Diets Gastroenteric)
| | | | | |
| --- | --- | --- | --- | --- |
| | Wet food | + | Dry food | Dry food |
| ADULT WEIGHT | | | ADULT | PUPPY > 14 WEEKS |
| | Pouches/Day | | g/day | g/day |
| 2 - 5 kg | 1 | + | 10 - 50 g | 20 - 75 g |
| 6 - 10 kg | 1 | + | 65 - 105 g | 90 - 150 g |
| 11 - 15 kg | 1 | + | 120 - 155 g | 160 - 210 g |
| 16 - 20 kg | 1 | + | 165 - 205 g | 220 - 265 g |
| 21 - 30 kg | 2 | + | 180 - 255 g | 230 - 345 g |
| 31 - 40 kg | 2 | + | 260 - 330 g | 345 - 440 g |
| 41 - 50 kg | 2 | + | 340 - 405 g | 430 - 525 g |
Meat and animal derivatives (chicken 43%) , cereals (rice 8%) , minerals , oils and fats , derivatives of vegetable origin (fructo-oligosaccharides 0.1%) , mannan-oligosaccharides 0.1%. , Highly digestible ingredient sources , Chicken and rice
Meat and animal derivatives (chicken 43%) , cereals (rice 8%) , minerals , oils and fats , derivatives of vegetable origin (fructo-oligosaccharides 0.1%) , mannan-oligosaccharides 0.1%. , Highly digestible ingredient sources , Chicken and rice