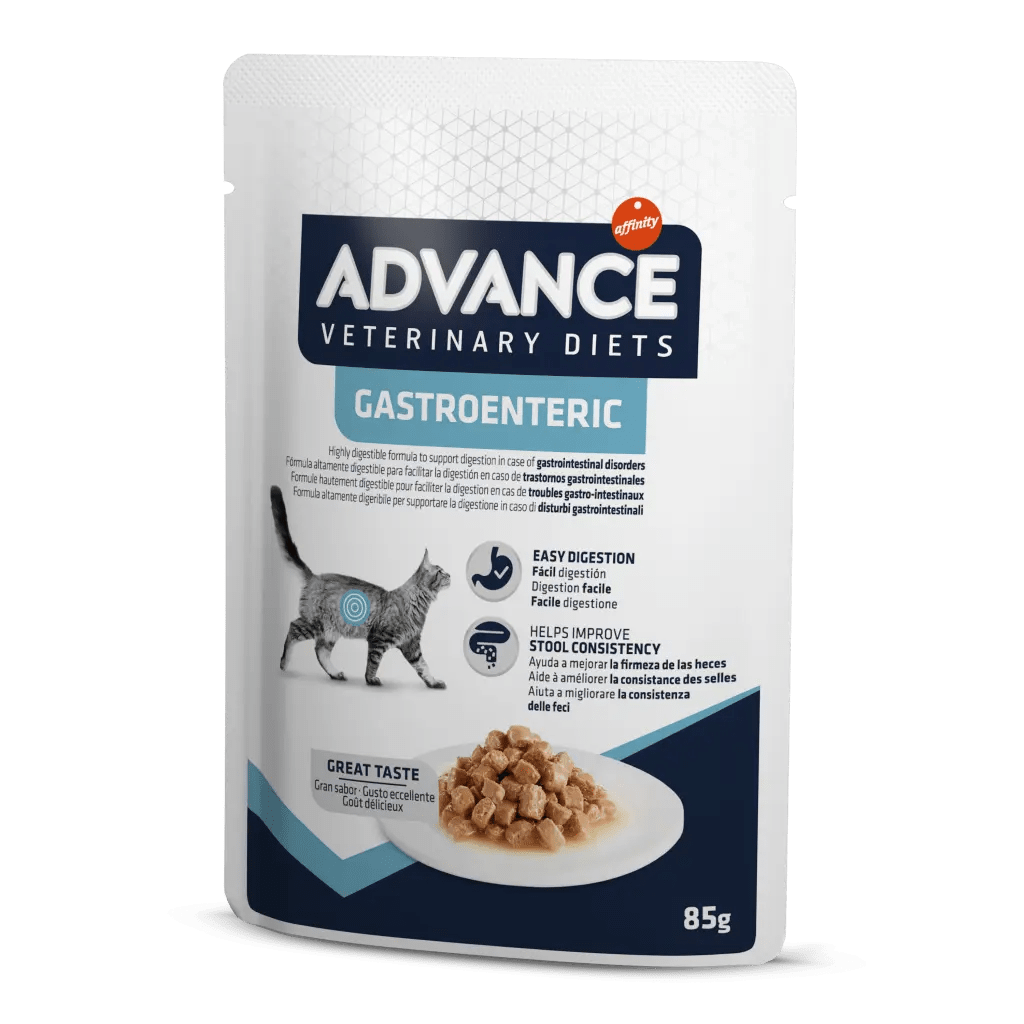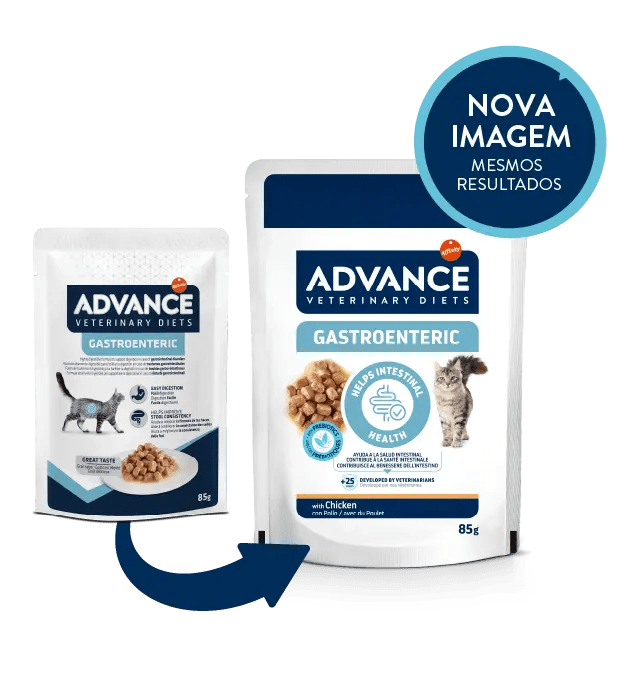 VETERINARY DIETS FELINE GASTROENTERIC
Veterinary Diet for gastrointestinal problems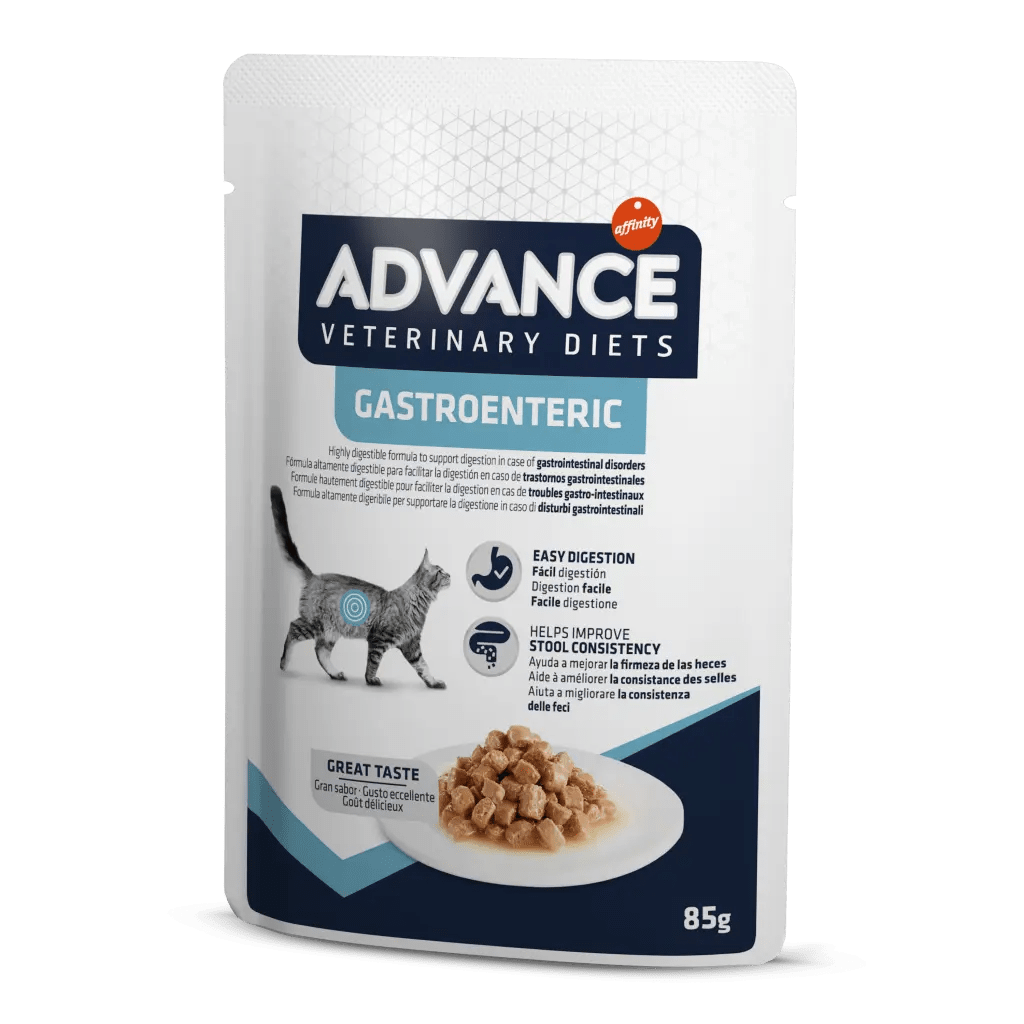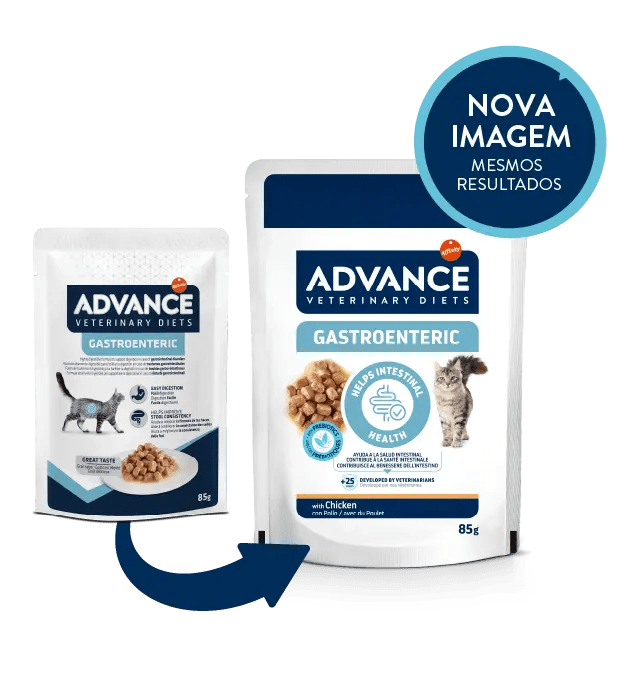 ADVANCE VETERINARY DIETS GASTROENTERIC is a complete and balanced dietetic food for adult cats and kittens that helps to offset digestive disorders, exocrine pancreatic insufficiency, and reduce intestinal absorption disorders. It is formulated with highly digestible ingredients, low fibre content, and an increased level of sodium and potassium. The product contains selected protein sources to improve digestion and prebiotics that improve the development of beneficial intestinal flora.
VETERINARY DIETS FELINE GASTROENTERIC

is a clinically tested food with proven results
Benefits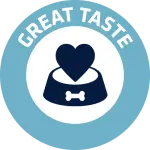 Flavourful food to improve appetite.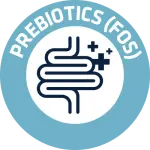 Promote the development of healthy intestinal flora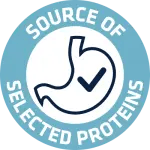 The easily digestible rice contributes to generating a smaller volume of faeces.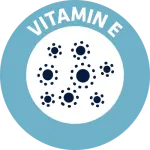 Helps to neutralize free radicals.
Recommended daily allowances
ADULT
| | | | | |
| --- | --- | --- | --- | --- |
| ADULT WEIGHT | WET FOOD | MIX FEEDING (WET | + | DRY Advance Gastroenteric) |
| | POUCHES/DAY | POUCHES/DAY | | G/DAY |
| 2 - 4 kg | 2,5 - 4 | 1 | + | 25 - 50 g |
| 4 - 6 kg | 4 - 5 | 1 | + | 50 - 70 g |
| 6 - 8 kg | 5 - 6 | 1 | + | 70 - 85 g |
KITTEN
| | | | | |
| --- | --- | --- | --- | --- |
| KITTEN'S AGE | ONLY WET FOOD | MIX FEEDING (WET | + | DRY Advance gastroenteric) |
| MONTHS | POUCHES/DAY | POUCHES/DAY | | G/DAY |
| 2 - 3 months | 2,5 - 3,5 | 1 | + | 25 - 45 g |
| 4 - 5 months | 3,5 - 4,5 | 1 | + | 40 - 60 g |
| 6 - 12 months | 3,5 - 4,5 | 1 | + | 45 - 60 g |
Meat and animal derivatives (chicken 35%) , derivatives of vegetable origin (chicory inulin 0.1%) , minerals , vegetable protein extracts , cereals , various sugars , oils and fats. , Highly digestible ingredient source: Chicken
Meat and animal derivatives (chicken 35%) , derivatives of vegetable origin (chicory inulin 0.1%) , minerals , vegetable protein extracts , cereals , various sugars , oils and fats. , Highly digestible ingredient source: Chicken